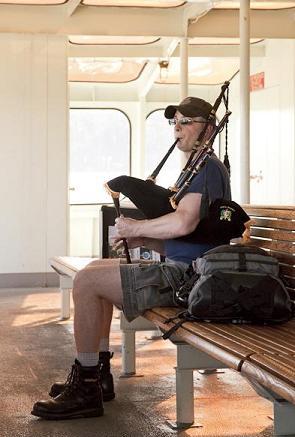 Endeavors…
I began playing fireside smallpipes during the winter of 2008/2009, adding to the traditional Scottish & Irish instruments I play. While was interested in picking up smallpipes for many years, I actually got my start when looking to do something different for recording an album. Upon getting my smallpipes, I quickly fell in love with their sound — subtle, and in their own way more imaginative than Highland pipes.
Today, I typically practice both Highland pipes and smallpipes weekly, on occasion finding myself practicing more with my smallpipes. I am constantly adding to my ability and further exploring the music and instrument's sound. Although rare, my clients have asked for smallpipe performances, either to compliment my Highland pipes and bring dynamic to my performance or for the times when they want the music but they need a lower volume for their space.
Work has begun on my first smallpipe album — Building Fire — with recording slated to start around December 2010. I intend to produce a companion album to follow — ElectriFire — using source recordings from Building Fire accompanied by electronic instruments and samples. Ideas have begun to solidify for the next two smallpipe albums after that.
Things To Come…
Building Fire ~ ElectriFire
Candy ~ Incense
---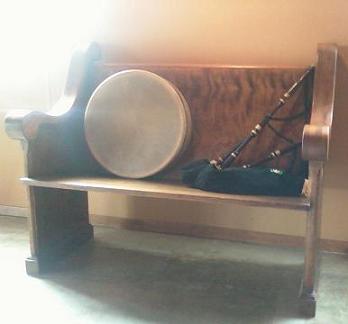 The Bigger Picture
For Those Who Want To Read More &/or Sleepless People Everywhere
In the course of the 8-days preceding Mother's Day 2007, I self-recorded and home-produced a solo piping album which I titled "Sanctuary I"* and dedicated to my mom for Mother's Day. (*AKA "Sanctuary 1")
Over the next year my playing improved quite a bit, and by mid Summer I began to feel that Sanctuary I no longer represented where I was at in my playing. This presented a dilemma — as a musician with a recording to sell, if you stop selling your recording because you've outgrown it somehow, you stop making money.
I began to think about how I could remedy this.
I had the same Highland bagpipes, and most of the tunes in my repertoire that were Traditional/Public Domain (tunes that can be used freely) were the same tunes I played on Sanctuary I. I wasn't about to re-record the same CD from a year earlier, just better — so how could I do something different?
Necessity being the mother of all invention … factor in my obsession … Answer!
Rearrange the tunes, include every new Traditional/Public Domain tune I'd since learned, borrow my friend's fireside smallpipes to record with and multi-track in my bodhrán (a type of traditional Irish drum) using my digital recording unit.
As went my past luck, I began talking about this idea and two drummer friends volunteered their skills — one offered to accompany me; the other offered to record, doing better than I could with my little recording unit. Following that, an on-line musician friend then suggested that I could get my finished recording manufactured through a CD producer — so I could finally move up from home-made wears to a professional product. I asked a piper friend if he might be willing to mix/master this recording, to which he responded that he was — a plan was coming together. Later, a Highland snare drummer I know in Idaho who has gotten into DJ-mixing expressed interest in contributing to my "She Moved Through The Fair" track, and around New Years I heard from an Irish e-friend who plays Highland bagpipes and a few other instruments who offered to contribute some acoustic guitar.
An additional year of college around 2009/2010 put a speed bump in the project and now I'm back to work on it. I'm getting my fingers ready and look to start recording around December 2010 with release slated for early 2011.