I rate Undead Or Alive as Green Ooze — and apparently the actual title is Undead or Alive: A Zombedy.  So what's the story…?
When a soldier on the run from the Union Army (James Denton) and a cowboy with a broken heart (Chris Kattan) rob the corrupt sheriff of an old west town, they have no idea that a plague of zombies is sweeping the country, or that Geronimo's sexy niece (Navi Rawat) may be their only hope of survival.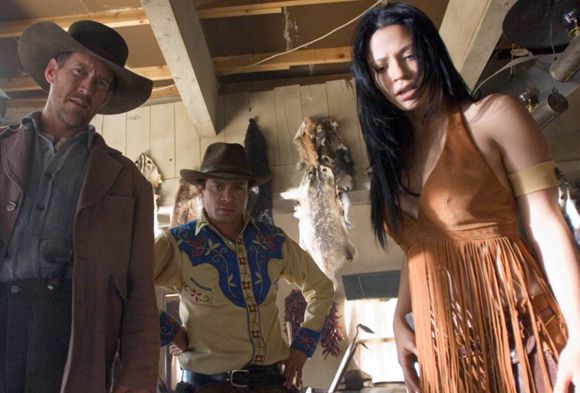 This film was fun — not necessarily a good film but it was decently made and fun to watch.  A comedic zombie film that takes place in the old west … yeah, that sounds different!
So now that I've seen it following Quick & the Dead,
what do I have to say…?
1) I was right, Undead or Alive is considerably better than Quick & the Dead and I'm extraordinarily glad I saw Q&tDead prior to Undead or Alive.
. . . AND . . .
2) Navi Rawat somewhat scantily clad in buckskins acting as a vindictive Native American woman — what more needs to be said abut watching this film?!?  I'm not a male chauvinist, I'm just a healthy heterosexual man and I know what I like.  Navi, if you're reading this, if you feel as so motivated please click on my Contact page.
(PSST! By the way, Navi Rawat is East Indian and German in descent, not Native American — chalk this casting up to the brilliance of HolloWood.  Oh, and in writing this review I learned that "chauvinism" doesn't mean what we've come to associate it as meaning — it actually more or less means "patriotic" — you might benefit from studying up on it yourself.)
Remember, in the old west "Guns don't kill people. Zombies kill people." …. or at least that was the film's tagline.
LINKS